Amoxicillin 500mg with Potassium Clavulanate 125mg tablets
Product Specification
• Composition – Amoxicillin 500mg / Clavulanate Potassium 125mg
• Common Name – Amoxicillin Clavulanate Potassium
• Brand Name – CLEDOMOX
• Trade Name – Co-Amoxiclav, Amoxiclav
• Available Strength – 625mg
• Therapeutic use – Antibiotic
• Packing – 10 Tablets/Strip – 10X10 Tablets/Box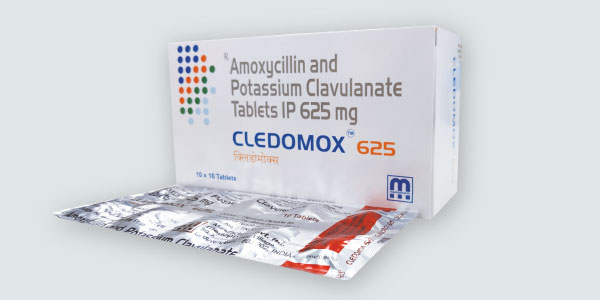 Product Description
Cledomox 625 tablet is a combination of Amoxicillin in the dose of 500mg and Potassium Clavulanate in the dose of 125mg.
Medopharm is a leading Amoxicillin and Clavunate Potassium tablets manufacturer and supplier in India.
The Amoxiclav tablet, Cledomox 625 acts as an antibiotic and helps to fight against bacteria, particularly in the treatment of RTI.
Significance of Aqueous Coating in Cledomox 625 Tablets
Medopharm has developed an innovation considering the patient's health with the aqueous coating technology in CLEDOMOX.
Conventional Amoxiclav tablets are made with a coating of organic solvents like Isopropyl Alcohol and Methylene Chloride. In some cases, the organic solvent coating is used for the lustre and shine of the tablet. The action of the tablet coating is to reduce the bacterial load for moisture-sensitive products. Due to the toxic nature of the organic volatile elements present in these tablet coating solvents, they are banned by regulatory authorities in many countries.
Cledomox tablets are made with an aqueous coating for solid dosage formulations. With many pharma manufacturers adapting to health, safety, and environmental practices, aqueous tablet coating has gained significant popularity now. Medopharm was the 1st to use aqueous tablet coating technology in manufacturing Amoxiclav tablets.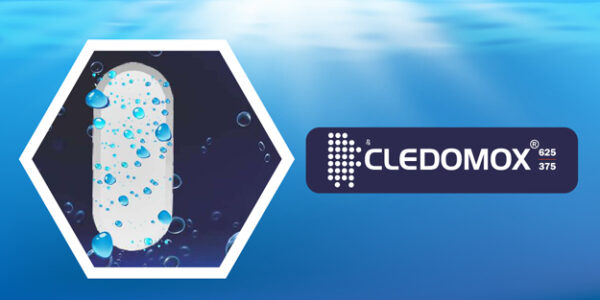 Cledomox 625 Tablets – The Best Co-Amoxiclav
First Aqueous Coated Amoxiclav in India

No Organic Volatile Tablet Coating

UK MHRA Accredited Manufacturing Unit

Dedicated Beta-Lactam Facility

Extra Dry Grade Amoxicillin for Greater Stability

UNICEF World-Wide Packing Supply

9mm Space between two Tablets in the Strip

40 Microns Strip Thickness

Retains Potency till Consumption
More Information on Cledomox 625 Tablets - Amoxicillin 500mg with Clavulanate Potassium 125mg
Cledomox 625 Tablets Uses
Cledomox 625 is used to treat bacterial infections of the upper respiratory tract, lower respiratory tract, urinary tract, skin, and other bacterial infections. It is used to treat infections in the lungs, ear, nasal sinus, urinary tract, and skin.
Mode of Action - Cledomox 625 Tablets
Cledomox 625 contains Amoxicillin 500mg and Clavulanic acid 125mg. While Amoxycillin kills the bacteria and inhibits the growth of bacteria, Clavulanic acid enhances the action of amoxicillin against bacteria. Amoxiclav is capable of killing the bacteria that are found to be resistant to other therapies. For, this reason, Amoxiclav is found to be the antibiotic of choice to treat tuberculosis that is resistant to other treatments.
Treat Bacterial Infections - Cledomox 625
Cledomox 625 tablets in the form of Amoxicillin 500mg and Clavulanate Potassium 125mg is used in Acute Bacterial Sinusitis, Acute Exacerbations of Chronic Bronchitis, Chronic Obstructive Pulmonary Disease, and Community-acquired Pneumonia. Most commonly, it is used in the empirical treatment of bacterial respiratory tract infections.
Cledomox 625 is highly effective against the predominant respiratory pathogens H. Influenzae and M.cattarhalis and Beta-Lactam resistant strains of S.pneumoniae.
Cledomox 625 - Combination of Amoxicillin and Clavulanic acid
Amoxicillin works as an antibiotic by killing or inhibiting the growth of bacteria. It attacks the wall or coating surrounding the bacteria, interfering with bacteria reproduction, and blocking the protein production in bacteria.
Clavulanate Potassium acts in combination with Amoxicillin Trihydrate to prevent the antibiotic inactivation by microbial lactamases.
Oral Administration of Cledomox 625 Tablets
Take Cledomox 625 tablets as prescribed by your doctor. It is a swallowable tablet and should not be chewed or crushed before swallowing. It is best advised to be taken with food or immediately after food.
Studies show that the absorption of Clavulanate Potassium is enhanced when Amoixclav tablets are taken at the start of the meal. It is also advised to be taken along with meals to reduce gastrointestinal intolerance.
Cledomox 625mg INDICATIONS
Cledomox 625 tablets or Amoxicillin-clavulanate are advised to be taken in accordance with the prescription from your doctor.
Co-amoxiclav is indicated for short term treatment of bacterial infections caused by Amoxicillin-Clavulanate-susceptible organisms.
Upper Respiratory Tract Infections
Cledomox 625 is prescribed for the treatment of upper RTI including ENT.
Prescribed for – Recurrent Tonsillitis, Sinusitis, and Otitis Media
Causative Agents – Streptococcus pneumoniae, Haemophilus influenzae, Moraxella catarrhalis, and Streptococcus Pyogenes
Lower Respiratory Tract Infections
Prescribed for – Acute exacerbations of Chronic Bronchitis, lobar and Bronchopneumonia,
Causative agents – Streptococcus pneumoniae, Haemophilus influenza, and Moraxella catarrhalis
Genito-Urinary Tract Infections
Prescribed for – Cystitis, Urethritis, Pyelonephritis, Female Genital Infections
Causative agents – Escherichia coli, Staphylococcus saprophyticus, and Enterococcus species
Skin and Soft Tissue Infections
Causative agents – Staphylococcus aureus, Streptococcus pyogenes and Bacteroides species
Bone and Joint Infections
Prescribed for – Osteomyelitis
Causative agents – Staphylococcus aureus,
Dental Infections
Prescribed for – Dentoalveolar abscess, Septic abortion, Puerperal sepsis, Intra-abdominal sepsis
Disclaimer:
We try to ensure that the information provided is correct and up-to-date to our knowledge. However, Medopharm and the contributors and editors of this information are not responsible for its accuracy, omissions, or any misappropriate actions taken because of reading this information. 
Your doctor will prescribe the medicines in different ways for different patients based on his/her judgement. We recommend you to seek the advice of your doctor. The information provided here is for the use of these medicines in India, and may not be applicable or suitable for other countries. 
Other Antibiotic Medicines of Radiant Division
Cledomox 625 Tablets