Vibrant Division of Medopharm is engaged in marketing over-the-counter (OTC) products in India. This division offers more than ten key brands and many generic products. Some of the top OTC brands include Medobalm, Emcof, Supergin, EQSTA immune plus, EQSTA vigor, and EQSTA hand sanitizer. Vibrant division is one of the leading consumer healthcare businesses operating PAN India.
Emcof
Emcof, our flagship brand in the OTC segment, is India's largest selling herbal cough syrup specially designed to treat any cough. Emcof is available in three variants Emcof regular, Emcof Junior, and Emcof- SF, catering to the needs of adults, children, and in case of diabetic patients.
Medobalm
Medobalm, an all Ayurvedic proprietary medicine specially made to provide relief from headaches and aches due to stress. Medobalm is one among the fastest growing brand in India and enjoys a substantial market share in the category of pain relief segment.
Supergin
Supergin ointment and Liniment isone among the fastest growing pain relievers in the Indian pharma market. It is positioned under the vibrant division with a leading domestic presence it the market. Supergin is specially formulated with 13 natural ingredients to provide long lasting relief from back, neck, arthritis, and all joint pains.
EQSTA
EQSTA brand of Medopharm is born with a vision to offer perceptible unique products that provide better physical health and wellbeing for end users. Our ideology is to create health and hygiene solutions that help to solve the unmet needs of people in their daily lives.
EQSTA products are formulated after an extensive research not only at the pharmaceutical manufacturing level but a complete study of consumer insights was taken to identify the unmet needs of the end user.
EQSTA Hand Sanitizer
EQSTA hand sanitizer is the only hand sanitizer with a unique non-sticky formula added with Aloe Vera for extra moisturizing. Available in three amazing fragrances of EQSTA Cowboy Fragrance, EQSTA Green apple with Aloe Vera, and EQSTA Rose with Aloe Vera, EQSTA hand sanitizers contains natural ethyl alcohol derived from plants.
EQSTA Tulsi Drops
EQSTA tulsi drops is an immunity booster that is fortified with pure Tulsi drops and the goodness of vitamin D3, which is added from a naturally available source. EQSTA tulsi drops helps to revitalize your body and protect your health from common diseases.
EQSTA Immunity Booster
EQSTA Immune + is fortified with a triple action formula of Vitamin C, D and Zinc that boosts the immunity of your body. From acting as a barrier to safeguard your skin to supporting your immune system and protecting your health by preventing communicable diseases, EQSTA Immune + offers the complete healthcare protection to your entire family.
EQSTA Vigor
EQSTA vigor brand comes under the vibrant division of OTC market segment. Launched into the domestic pharma market as a dietary supplement for male performance, it holds a significant market share in the OTC segment.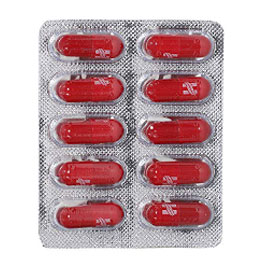 Vibrant
This division is Medopharm's latest venture, Vibrant started in the year 2018, with a focus on OTC products that help and promote better health and hygiene. With an enriching product line for your personal and your family's well-being, the Vibrant division envisions a lively and enthusiastic you.
Strength: Ofloxacin 200 mg / Ornidazole 500 mg
Packing Size: 10 Units
Medopharm is one of the leading manufacturers and exporters of pharmaceutical products in India.
Vibrant