CarnoAct Tablets
L-Carnosine 200 mg + CoQ10 150 mg + ALA 200 mg
Neuroprotective CarnoAct Tablets contain L-carnosine, Coenzyme Q10, and Alpha-Lipoic acid. The prime role of CarnoAct is its neuroprotective action that helps to protect the brain from oxidative damage. CarnoAct is a neuroprotective supplement co-prescribed in Alzheimer's disease, Parkinson's disease, multiple sclerosis, neuromuscular dystrophy, ischaemic brain injury, and stroke. The unique combination of three antioxidants in this neuroprotective supplement helps to improve cognitive health and protect against age-related neurodegenerative disorders.
Product Description
CarnoAct Tablets, the ideal neuroprotective and neuromodulator is a supplementary medication that contains L-carnosine 200mg, Coenzyme Q10 150mg, and Alpha lipoic acid 200mg.
Formulated for the first in India, CarnoAct tablets contain a unique combination featuring L-Carnosine, CoQ10, and ALA, the three vital antioxidant nutrients that help to promote cognitive health. While L-Carnosine is known to have properties that help in improving neurological symptoms, CoQ10 is an energy booster and antioxidant that helps to protect neuronal cells from oxidative stress. Alpha-Lipoic Acid has a potent antioxidant effect that helps to reduce neuron damage.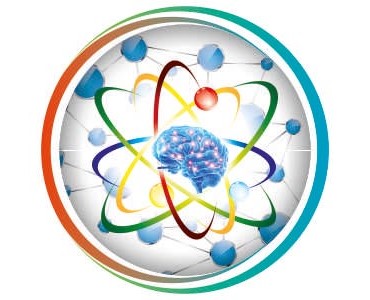 L-carnosine Neuroprotective Supplement in CarnoAct Tablets:
Found primarily in the brain and skeletal muscle tissues, L-Carnosine is a naturally occurring dipeptide of the β-alanine and L-histidine amino acids. It acts as an antioxidant, antitoxic, and neuroprotective agent. Carnosine helps in preventing ageing and treating complications of various neurological disorders. Also known as mitochondrial antioxidants, L-carnosine is considered a neuroprotective supplement that has anti-ageing properties.
Acts as a neuroprotective against various neurodegenerative diseases such as Alzheimer's disease, dementia, dyslexia, autism spectrum disorder (ASD), and attention deficit hyperactivity disorder (ADHD)

Contributes to the regulation of Zinc availability in the brain

Helps to reduce inflammation and neurodegeneration by lowering TNF-α and nitric oxide synthesis

As a neuromodulator helps to prevent or even reverse the formation of cross‐linked proteins in neurodegenerative disorders

Provides remarkable improvement of neurological symptoms of Parkinson Disease
CoQ10 Neuroprotective Supplement in CarnoAct Tablets:
Dietary supplement Coenzyme Q10 (CoQ10) acts as neuroprotective and is an essential cofactor in the mitochondrial respiratory chain. It plays a potential role in the treatment of neurodegenerative disease.
Acts as an antioxidant in mitochondria and lipid membranes

Helps to protect neuronal cells from oxidative damages

Dietary supplementation of CoQ10 helps to treat patients with known mitochondrial disorders and other neurodegenerative disorders

Neuroprotective action helps to safeguard against neuronal damage caused by ischemia, atherosclerosis, and toxic injury

CoQ10 supplement is found to be well-tolerated in Parkinson's and Huntington's diseases

CoQ10 neuroprotective supplement helps to delay functional decline in Parkinson's disease
Alpha Lipoic Acid (ALA) Supplement in CarnoAct Tablets:
Universal antioxidant Alpha-lipoic acid is a naturally occurring disulfide molecule with anti-inflammatory properties. Alpha-lipoic acid (ALA) acts as an antioxidant in water-based substances such as blood as well as in fatty tissues and membranes, where it is reduced to metabolite dihydrolipoic acid (DHLA).
Acts as an antioxidant and scavenges free radicals

Neuroprotective supplement ALA helps in the treatment of various neurological disorders

As a cofactor in many enzyme complexes, ALA helps in regenerating damaged tissues

Alpha-lipoic acid improves the symptoms of neurodegenerative diseases by inhibiting neuron damages caused by ROS.

ALA increases cognitive function by reversing the decline of the hippocampal glutathione

Supports regulation of nerve growth factor and helps to maintain blood glucose balance

Alpha-lipoic acid helps in the reduction of oxidative stress and prevents neurodegenerative diseases, such as AD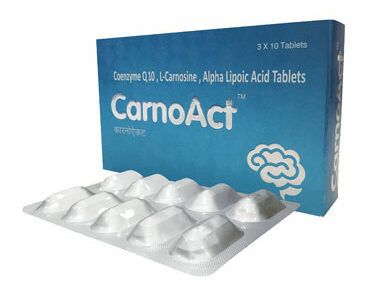 Benefits of CarnoAct as a Neuroprotective Supplement Medicine
Helps in improving the symptoms due to neurological and neurodegenerative diseases
Aids in the management of Alzheimer's disease (AD), Parkinson's disease (PD), ASD, dyslexia, and ADHD
Reverses the age-related disorders by preventing the formation of advanced glycation end products (AGEs)
Neuroprotective action of CarnoAct helps to protect the neuronal cells and ensure brain health
Exhibits anti-glycation, anti-stress, and antioxidant properties that help to alleviate the symptoms of various neurodegenerative disorders
Increases the cognitive function by reducing the oxidative stress
Product Specification
Composition – L-Carnosine 200 mg + Coenzyme Q10 150 mg + Alpha lipoic acid 200 mg
Brand Name – CarnoAct
Common Name – Neuroprotector, Neuromodulator,
Therapeutic use – Alzheimer's disease, Parkinson's disease, Multiple sclerosis, Neuromuscular dystrophy, Ischaemic brain injury and Stroke
Packing – 10 x 10 Tablets per box
INDICATION:
CarnoAct Tablets contains L-carnosine, CoQ10, and ALA. It is Co RX in

Alzheimer's disease
Parkinson's disease
Multiple sclerosis
Neuromuscular dystrophy
Ischaemic brain injury and stroke
Frequently Asked Questions – CarnoAct Tablets
How L-carnosine helps in anti-ageing?
L-Carnosine helps to protect the cells from the damage caused by free radicals. It combats oxidative stress and counteracts oxidant and glucose-induced damages.
How L-carnosine supplementation helps?
L-carnosine supplementation has been found to help in improving cognitive function and strengthening metabolic pathways. It offers therapeutic support for many health conditions and concerns including cognitive health.
How L-carnosine supports brain health?
L-carnosine is found to have a strong anti-glycation ability. This help in supporting cognitive function. Additionally, it helps to decrease anxiety and support memory apart from delaying the mental fatigue due to oxidative stress.
How does Alpha-Lipoic acid help as an antioxidant?
ALA or Alpha-Lipoic acid supplement acts as an antioxidant and protects the brain from damage.
Why do I need Alpha-Lipoic Acid supplement?
ALA, an essential part of energy metabolism in the body, is produced by the human body. However, there is some evidence that suggests the requirement for an Alpha-Lipoic Acid supplement that acts as an antioxidant to fight against free radicals.
How CoQ10 helps in Parkinson Disease?
The study suggests that CoQ10 slows the progressive deterioration of function in Parkinson Disease. Moreover, CoQ10 is found to be safe and well-tolerated.
How does CoQ10 benefit neurodegenerative diseases?
CoQ10 may protect against neuronal damage caused by ischemia, atherosclerosis, and toxic injury. Dietary supplementation with CoQ10 helps to enhance antioxidant defences in mitochondria and treat patients with known mitochondrial disorders and other neurodegenerative disorders.
Disclaimer
We try to ensure that the information provided is correct and up-to-date to our knowledge. However, Medopharm and the contributors and editors of this information are not responsible for its accuracy, omissions, or any misappropriate actions taken because of reading this information. 
Your doctor will prescribe the medicines in different ways for different patients based on his/her judgement. We recommend you to seek the advice of your doctor. The information provided here is for the use of these medicines in India, and may not be applicable or suitable for other countries. 
Other CNS Medicines of Jubilant Division
CarnoAct Tablets