50 Years of Excellence in the Pharma Industry
On the occasion of 50 years of excellence by Medopharm, our team would love to pay homage to our Founder, Padma Shri Mohanmulji Chordia for his legacy and vision.
Our Founder, Padma Shri Mohanmulji Chordia – A visionary who was the pioneer in initiating Medopharm, one of the leading pharma companies in South India.
Driven by the principle "We Value Life" and the values blessed upon us by our founder, Medopharm continues to offer high-quality pharma medicines and products that are affordable to all.
The Journey of Medopharm – A leading pharma manufacturer in India
It all started with two pharma products in the year 1970, with the company manufacturing chloramphenicol and tetracycline capsules, led by an ambitious motto of providing low cost medicines. With his vision to provide quality medicines for the people, our Founder was keen to develop an Indian pharma company when the market was not even prepared for accepting a new Indian pharma manufacturer. Padma Shri Mohanmulji Chordia was a pioneer and visionary to set up one of the earliest pharma manufacturing company in South India.
50 years later, Medopharm is still guided by the principles and values taught by our Founder. Today, the company is one of the leading manufacturers of over 600 pharma products in South India. Managed by a 6500 full-time and contract employees in India and abroad, Medopharm is a leading supplier of generics to Supra government agencies, including UNICEF and WHO.
The recent 2 decades has seen a dramatic growth at Medopharm with an aggressive growth and dynamic expansion. This is reflected in our 4 manufacturing units, with the recent Guduvanchery Factory unit-2 installed in 2018.
Personal Life of PadmaShri Mohanmulji Chordia
Padma Shri Mohanmulji Chordia was born on 26 August 1902 at NokhaChandawata, a small village in the Nagaur district of Rajasthan. He was married to Smt. NENI KAVUR BAI In the year 1917 and was adopted by Shri. Sohanmullji Chordia of M/S. SahAgurchandManmull.
His Contributions to the Society
As an Indian social worker, educationist, and philanthropist, he has contributed greatly towards the cause and welfare of the society. He held various prestigious roles in innumerable institutions of religious, educational, medical, social and animal welfare societies. To name a few, here is some of his contributions to Shri ShwethamberSthankwasi Jain Educational Society, Shri Sthanakwasi Jain Pathsala, Shri Sohanmullji Chordia Charitable Dispensary, S. S Jain Boarding Home, A. G. Jain Higher Secondary School, Shri Jain Medical Relief Society, and NeniKavur Bai Maternity & Child Welfare Hospital.
Prestigious Awards
He has garnered many awards in his lifetime for his contribution to the society.
One of the greatest awards conferred on him is Padma Shri from the Government of India, one of the fourth highest Indian civilian awards. He received the prestigious award from the then President of India, Sri. V.V. Giri on 25th March 1972.
To honour the meritorious services of late SHRI MOHANMULLJI CHORDIA, the then late Chief Minister of Tamil Nadu SHRI M.G.RAMACHANDRAN named a street after him in the southern part of Mint Street, Chennai, Tamil Nadu.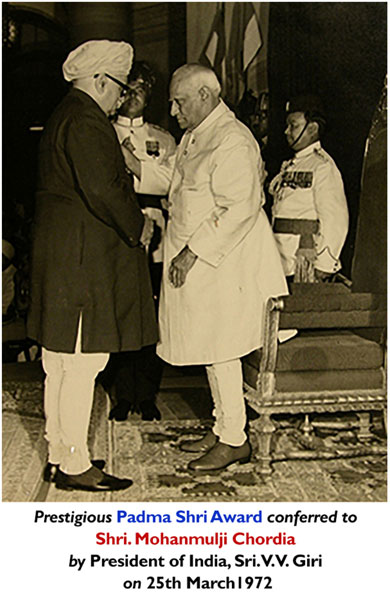 Our Chairman Shri.Sardarmul Chordia, Founder – Following the footsteps of PadmaShri Mohanmullji Chordia
Shri.Sardarmul Chordia, Founder, Chairman of Medopharm follows the footsteps of Padma Shri Mohanmulji Chordia. Shri.Sardarmul Chordia has adorned multiple roles while spearheading the organisation. His command to oversee all areas of functionality, from the manufacturing to the marketing of pharmaceutical products, right from the beginning of the company to its growth as an established pharma company is awe-inspiring to us even today.
His strong leadership quality has encouraged many youngsters to take responsibility and instigated them to stay on course – towards providing high-quality affordable medicines to all.
Driven by the vision of our Founder, Medopharm continues to strive ahead with the introduction of new innovative medicines that are affordable as well. Well-known as a leading contract manufacturer in India, Medopharm also exports affordable quality medicines to the rest of the world countries.
– Medopharm